CIPPE Shanghai has been held successfully for 11 years. cippe 2019 Shanghai attracted 620 enterprises from 52 countries and regions including USA ,Germany ,Russia , France , Japan , Singapore etc. The exhibition area exceeded 38000 square meters.
Event Figure
>>
$3.68~10

Cost for per visitor

23

Countries & regions

87%

Interested to be a visitor

13%

Interested to be exhibitor
SUCCESS STORY
>>
Aiming to improve awareness and acquire more new international visitors, Zhenwei Expo, the CIPPE Organizer, as the biggest Petroleum Petrochemical Exhibition, chose iStarto Team as their digital marketing team to promote its brand globally and used Facebook lead ads with the visitor registration to achieve a 86% lower cost per acquisition.
86% lower cost per acquisition with lead ads and conversion objective than with other ad agency
9X higher conversion rate (compared to the past digital team)
THEIR STORY
>>
——Event Organizer
Zhenwei is a leading exhibition organizers and listed company in China It manages the most industrial exhibitions in China market during the past 2 years.
THEIR GOAL
>>
CIPPE had been using ads from magazine publications targeted to an existing list of leads to acquire potential customers. That strategy did successfully increase online information requests and trial applications. However, the company wanted to expand its target audience so it could maximise its lead acquisitions.
iStarto SOLUTION
——Leading in potential customers
CIPPE had previously used link ads with the conversion objective to encourage people to request information and trials but got a bad result. This year, CIPPE chose iStarto as its new digital vendor to improve its digital campaigns for global markets.
iStarto Facebook Ad Team created a lookalike audience based on the Custom Audience, and then reached out to them using lead ads.
A selected group of oil and gas manufacturing &engineers to enrich its potential customers through lead ads.
Instead of offering more information about its service in the ads like it had done with the link ads, CIPPE used lead ads to encouraging its target audience to experience the benefits of its offerings first-hand. The ads featured screenshots of visitor registers, as well as videos showing usage scenarios.
CIPPE also included testimonials from highly-satisfied existing customers to attract the new viewers to sign up.
Once the campaign began, CIPPE collected leads from people who completed and submitted the forms. The organizer also followed up with people who clicked on the lead ad, but did not complete and submit a form, sending them link ads using the website conversion objective.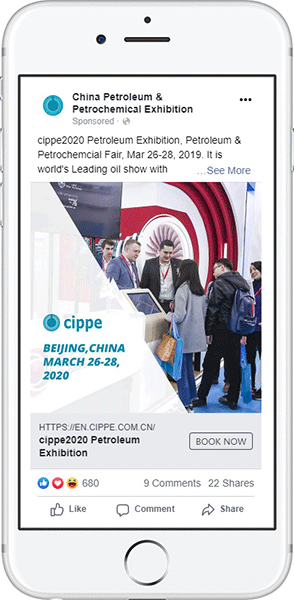 Testimonials on iStarto
>>
Furthermore, distributing lead ads with the conversion objective reduced the number of uncollected targets with an interest in our service. By using a combination of ads, we were able to lower the cost per acquisition to less than 80%.
—— Mr. Meng Marketing Manager, CIPPE 2020
iStarto Ad Team made it possible to reach people with high precision and change the distribution content for each persona, allowing us to approach different industrial potential customers that would be difficult to reach with other ads. They are really experts on Facebook Ads, Google Ad with excellent digital talent.
—— Ms. Zhang  Marcom Director,ZHENWEI EXPO
THEIR SUCCESS
>>
Maximising customer acquisition
CIPPE effectively increased its acquisitions for potential customers with lead ads using the conversion ad objective. The campaign, which ran from October 1–November , 2019, achieved:
86% lower cost per acquisition with lead ads and conversion objective than with other ad agency
9X higher conversion rate (compared to the past digital team).
Link ads
>>
Point more people to your website using link ads.
Lead ads
>>
Generate qualified leads for your business.
Custom Audiences
>>
Reach your customers and contacts on Facebook.
Lookalike Audiences
>>
Find people who are similar to your customers and contacts.