As a starting, Unilumin will have a product release on Feb 12, 11:00 am – 12:00 am at #ISE2020,  the world's largest exhibition for systems integration professionals. Welcome to register now and send email to sales@unilumin.com. Or Click here to register to ISE2020 at Amsterdam.
 About Unilumin
Established in 2004 with registered capital of USD 91.4 million, Unilumin Group Co., Ltd. is a leading LED application products and solutions provider dedicated in LED product development, manufacturing, sales and after-sales service in domestic and abroad. In 2011, Unilumin got listed with stock code 300232. With a corporate vision of "Together, for a brighter future", Unilumin contributes itself in delivering high-quality, high-performance LED products and solutions to our clients in over 100 countries and regions worldwide.
The company' s main products are high-definition full-color LED display and LED lighting. The sales and support networks of Unilumin has covered more than 160 countries, which has over 700 channels with subsidiaries in New York, Amsterdam, London, Moscow, Melbourne, Dubai, Stuttgart, Seoul, Tokyo, Singapore and so on, as well as having offices in Hong Kong, Italy, Canada, America and Mexico, etc.
Unilumin's subsidiaries include ROE Visual and LAMP, Guangdong Unilumin, VFlighting, Panasign,Joyway and Qinghua-Kangli.
About integrated system Europe 2020
As The world's biggest pro AV show, ISE (integrated system Europe) look forward to welcoming professionals to the RAI Amsterdam on 11-14 February for ISE 2020. Integrated Systems Europe is the world's largest exhibition for AV and systems integration.
This edition of the show promises to be the most compelling yet, with a full professional development programme supported by our association co-owners AVIXA and CEDIA, and our biggest conference programme ever.
THE AV CHANNEL
We define the AV channel as comprising the product supply chain – the companies involved in the buying and selling of AV products, as opposed to integrated solutions. Most people who work for these companies would say that they work within the AV industry.
We regard you as part of the AV channel if you select one of the following company descriptions on the ISE registration form:
Integrator/installer
Distributor/reseller
Manufacturer
Consultant
Live events producer
Software developer/programmer
Design firm
User experience/customer experience developer
END-USERS
The market for professional AV solutions can be broken down into vertical sectors. Examples of these include enterprise, education, live events, hospitality, retail and smart homes. If you are employed by a company within a vertical market sector such as these, we probably regard you as a user of AV solutions – an 'end-user', in our terminology.
As an end-user, you could have a wide range of responsibilities with regard to AV solutions. You might have direct responsibility for operating, maintaining and eventually upgrading an AV solution – as part of an in-house AV, IT or facilities management team, for example. Alternatively, you might only become involved in specifying or selecting AV solutions when a specific project is being considered.
End-users have been a growing part of the ISE audience for several years.
We regard you as an end-user if you select one of the following company descriptions on the ISE registration form:
Users or purchasers of AV solutions and products
Creative agency/artist
Meeting/event planner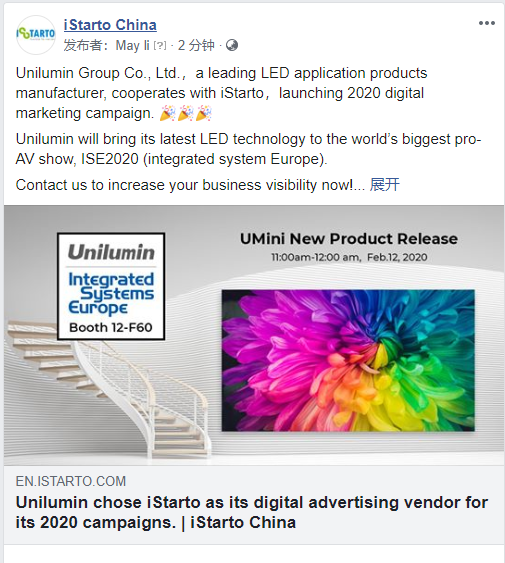 MARKET SECTORS
ISE's audience encompasses over 50 vertical market sectors. Here are some of the most strongly represented, and the reasons why ISE is their destination of choice.
Enterprise/IT
Education
Live events
Hospitality
Retail
Smart homes
Other sectors
About iStarto
iStarto has provided digital marketing services and software that help marketers get more out of online advertising for more than 10 years.
Based on the team's skillful experience on search engine marketing and social media management, iStarto provides the digital marketing services for over 500 China companies.
For different types of customers (manufacturing or e-commerce), iStarto has different and complete strategic solutions, and use a clear tactical roadmap for executating marketing campaigns.
If you would like to know more about iStarto and Unilumin, please not hesitate to contact with us.
Now iStarto still provides digital marketing services including: